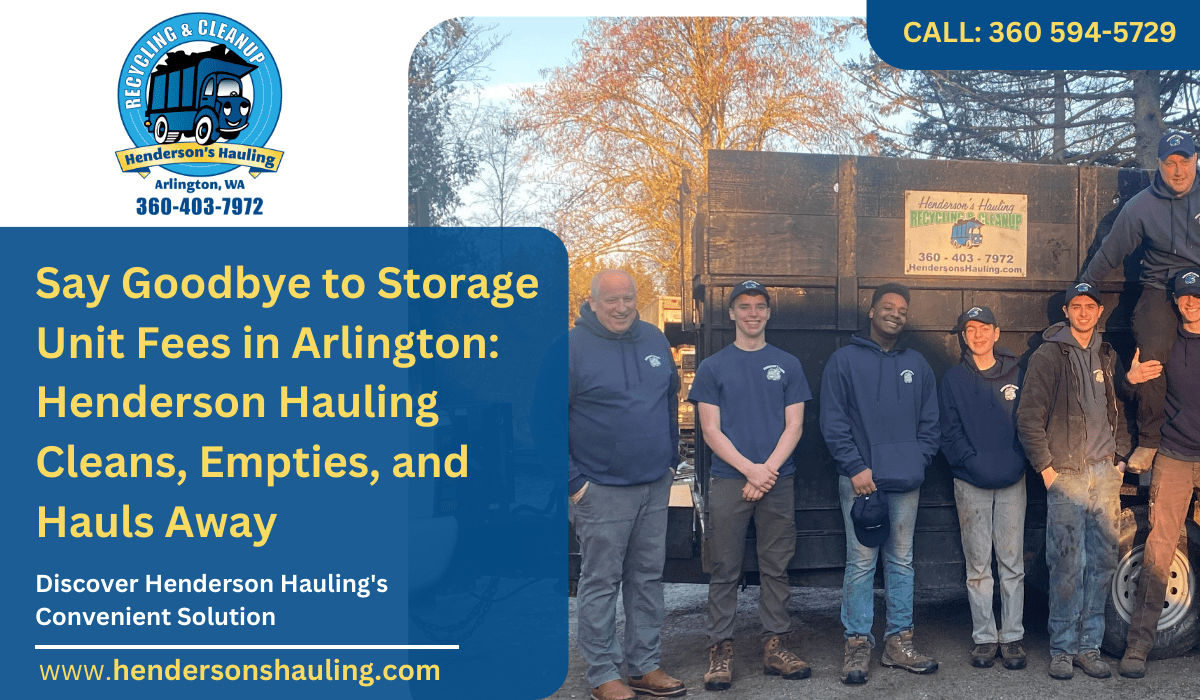 Attention: Arlington Storage Renters! Free Yourself from Storage Unit Expenses: Discover Henderson Hauling's Convenient Solution.
Description: Are you tired of paying hefty fees for multiple storage units? Learn how Henderson Hauling can help you eliminate storage expenses and effortlessly relocate your belongings. Read on to find out more.
Have you accumulated so much stuff that you rent multiple storage units? It's a common problem faced by many individuals today. Whether it's due to downsizing, moving, or simply not having enough space at home, utilizing storage units seems convenient. However, the costs can quickly add up, leaving you burdened with heavy fees month after month.
Are you tired of the financial strain caused by storage units? Save your money now! At Henderson Hauling, we have an innovative service that aims to provide you relief. Our efficient hauling services will help you bid farewell to excessive storage fees and enjoy a hassle-free experience in managing your belongings. 
Attention: Storage Unit Facility Owners If you find yourself in a situation where a client has vacated or terminated their lease on a storage unit, it is crucial to clean out the unit promptly to make it available for rent to someone else. You can count on us to assist you with this task. By giving us a call, we will swiftly and efficiently haul away any remaining belongings, ensuring that the storage unit is ready for a new renter. (360) 403-7972
The Burden of Multiple Storage Units
It's easy to accumulate belongings that we no longer use or need over time. Old stuff can be a constant reminder of the memories and attachments associated with those items. 
Storage units filled with unused things can become a physical manifestation of our emotional clutter. At Henderson Hauling, we understand how this burden can affect your well-being. 
Our innovative service relieves you from the financial strain of storage units and helps you let go of the past and lighten the load on your heart. Let us assist you in bidding farewell to these reminders of the past, creating space for new experiences and a fresh start.
Having multiple storage units may seem practical when running out of space, but it often leads to a never-ending cycle of expenses. Each unit has its monthly rental fee, insurance costs, and potential late fees for missed payments. Before you know it, you find yourself shelling out a significant amount each month to store your possessions.
Managing multiple storage units is daunting, requiring constant attention to organization and occasional trips to check on your belongings. This burden causes stress and consumes valuable time and money that you could use for something healthy and fun. 
Henderson Hauling is the perfect solution to alleviate this problem. Our clean-out approach makes your life easier and more efficient, leaving you confident and optimistic about your storage situation.
"The only way to move forward is by eliminating the past."
Introducing Henderson Hauling: A Cost-Effective Alternative
Imagine a scenario where you no longer have to worry about the never-ending storage fees. Henderson Hauling offers a unique service that lets you declutter your life and reclaim your space without breaking the bank. Instead of paying for multiple storage units, they contribute to come and haul away all your belongings whenever you need them.
Henderson Hauling understands the financial burden of storage units and aims to provide an alternative that saves you money in the long run. By opting for their hauling services, you can eliminate the ongoing expenses of renting storage units altogether.
What you get with Henderson Hauling
When you call Henderson Hauling, you can expect to receive top-quality, professional, and reliable hauling services. As a full-service junk removal and recycling company based in Arlington, we provide efficient solutions to meet your hauling needs.
Our services include:
Junk Removal

Brush and tree Removal

Demolition

Eviction Cleanouts

Emergency Tarping,

Estate Property Cleanouts

10-Yard Dumpster Rentals

Recycling and U-Haul Truck Rentals

Cleaning & Hauling

Empty and Haul contents from Storage Units

 
See our comprehensive hauling and recycling services.
We take pride in our ability to provide fast and accurate quotes and in-and-out services, ensuring we show up on time, work hard, and do the job in record time.
As a local company, we care about our clients and their needs. Our clean and reliable service ensures we take special care, even in the toughest situations. We are a good ol' local business made up of hard-working individuals your neighbors recommend! Our owner, Shane Henderson, has been in the junk business for years and knows what it takes to complete the job.
At Henderson Hauling, we believe in providing you with a stress-free experience. Once you call us, we take care of everything, from assessing your hauling needs to providing an accurate quote to hauling your items away. With our quality, careful, and professional services, you can rest assured your hauling needs are satisfied with the utmost attention and care.
Freedom from Storage Unit Fees is Within Reach
If you're tired of paying exorbitant amounts for multiple storage units, it's time to consider an alternative solution. Henderson Hauling offers a cost-effective way to free yourself from the burden of storage fees while ensuring the safe handling and transporting of your belongings when needed.
Stop wasting your hard-earned money on storing items you rarely use or don't truly need. Embrace this opportunity to declutter your life, save money, and simplify your relocation process. Henderson Hauling is here to make your life easier and more affordable.
Don't let expensive storage unit fees hold you back any longer. Contact Henderson Hauling today and experience the freedom of a clutter-free life! (360) 403-7972
For extensive information on clean-outs, check out our informative blog posts.
Overcome the Burden of Probate Clean-Out
How to Get Rid of Unwanted Items Quickly and Easily