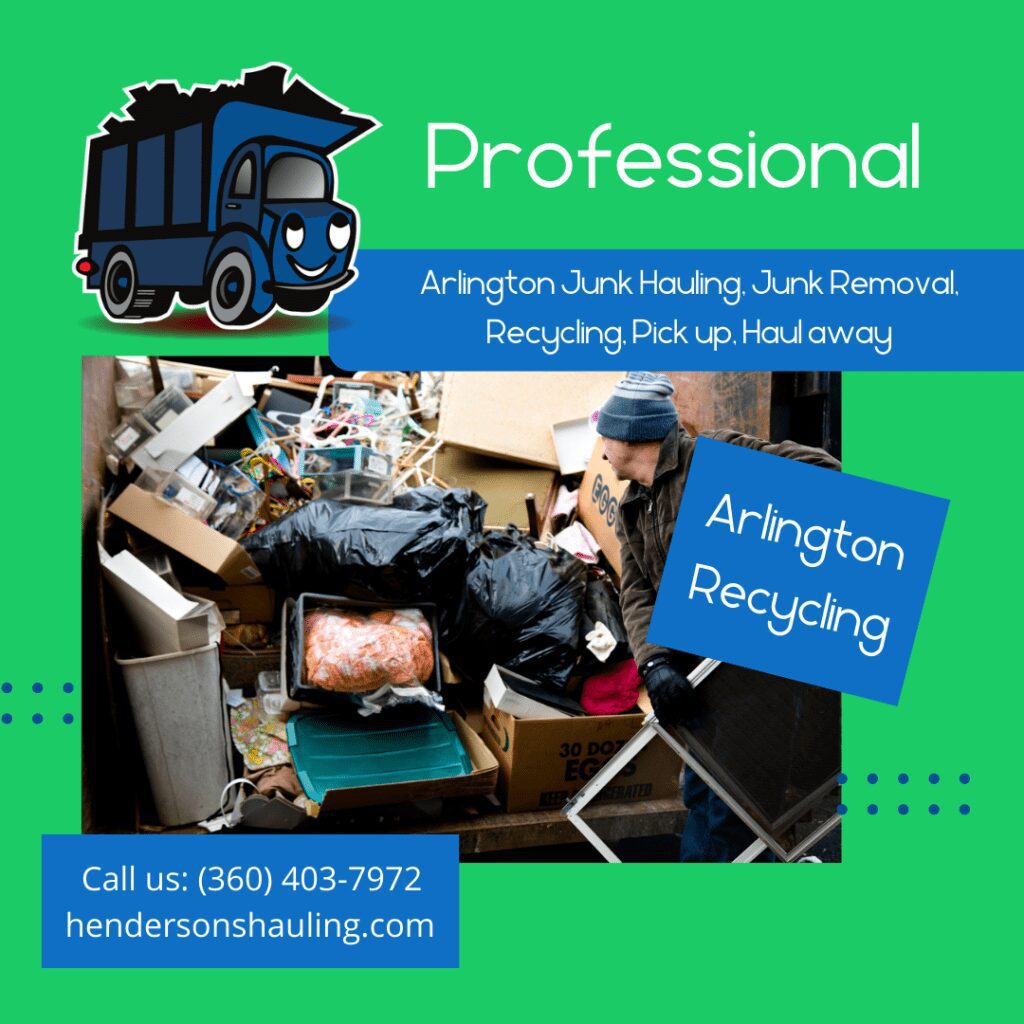 Arlington Junk Hauling, Junk Removal, Recycling, Pick up, Haul away
We understand that it is difficult to accomplish spring cleaning and organizing at the same time. With rain pummeling our region, and less sunny days, decluttering might be the last thing you want to do. That is why we are here to help you declutter your life and haul away those eyesores. When you call Henderson's Hauling, help is on the way!
Decluttering is hard! It's not easy to just start going through stuff, and then picking it all up, loading it in your car or truck and taking it somewhere that won't charge you too much. Most people have to jam their cars with stuff, and try to find a place to take it all. That's why we offer affordable pick up and hauling services.
Call Henderson's Hauling junk hauling & removal services: (360) 403-7972
Need a full-service junk removal and recycling company? Henderson's Hauling, is a full-service junk removal and recycling company based out of Arlington, WA serving residential and commercial clients across Western Washington. Our friendly and professional team will efficiently remove anything you need to get rid of – from construction debris and old furniture to bulky appliances and yard waste.
You don't have to lug your stuff to the landfill or donate it to Goodwill. Henderson's Hauling is here to recycle your unwanted items, including furniture, appliances, electronics, and more. Stop leaving that old couch in your garage or dumping your junk into recycling bins—let us take care of it for you!
We offer full-service junk removal and recycling in Arlington!
We provide junk removal and recycling services in Arlington and around the Puget Sound. We make it easy for you to get rid of your unwanted clutter quickly, safely, and cost effectively. Have a garage or yard full of stuff? We'll come out and haul it away while you relax. No need to strain your back. We have a team of experts that pick up your things the right way. We respect you and your property. Call Henderson's Hauling today (360) 403-7972
All you have to do is prepare your items that need to go. We'll come and pick it up. Our goal here at Henderson's Hauling is to help you get rid of every part of your junk! We will haul away whatever old items you have, from clutter in your junk drawer to an entire house full of trash. 
Your stuff might have been useful in the past but now it's taking up space and filling your life with chaos. Leave those old things behind for us to take somewhere where they can be put to better use by someone else!
When you recycle in Arlington, you help the whole world.
We will remove and recycle your unwanted items. You can trust us to be honest, hard-working citizens with a passion for giving back to the community. Henderson's Hauling will take just about anything! Clothes, antiques, lamps, tons of collectibles, estate leftovers, and old appliaces. Whatever you have, we will haul it away!
We are willing to take your reusable or unusable junk so they can be reused and repurposed by those in need. Our company recycles and repurposes usable items that otherwise end up in landfills and waste dumps. We will pick up the usable items on your property, such as clothes, antiques, lamps, antique furniture and more!
Pros of using Henderson's Hauling to haul and recycle your stuff.
A clean space renews you.
If you are selling, a clean home attracts more buyers.
Reduces pollution
Prevents waste of useful materials
Materials such as plastics, paper and glass are collected and sent for reprocessing into new products.
Recycling helps conserve the use of natural resources.
We'll take the reusable items to the proper locations to save you money, time and stress.
When you recycle, you are a hero.
We'll pick up your large items, but you get the good karma credits. Recycling helps the environment and saves natural resources. Recycling saves money, energy and the earth's precious land, water, air and minerals. We will haul anything for you. Just ask.
Recycling is a way to avoid waste. Recycling helps us reduce the consumption of new products and conserve the Earth's resources. If we all start recycling, there will be less pollution, and our planet will be healthier.
Recycling is an important way to save natural resources. You can recycle almost anything, from old cars, furniture to electronics and even clothes! It helps the environment, reduces carbon emissions and leads to a cleaner, healthier planet for us all.
We don't want to give you a sermon about recycling, but we will pick up whatever you need to throw away! Even if it is not a good recycling item, such as old wallpaper, appliances, concrete, spackle, tires, car parts, or whatever else, we know what to do with it. Just point and it's gone.
Full Service Junk Removal  
Eviction Clean outs
Yard Waste Removal
Junk Removal
Additional Services Include:
Concrete/asphalt jackhammering and hauling
Recycling services
We also offer 10 yard dumpster rentals and UHAUL truck rentals!
Committed to Customer Service
We are committed to serving the community of Arlington and all of the surrounding areas. We have been in the junk hauling business for over 15 years, and take pride in our customer satisfaction and service record.
At Henderson's Hauling, customer service is our number one priority. We are proud to be a local business and family owned; your satisfaction is guaranteed when you choose us to remove your large recycling and unusable items.
"I was so impressed with the job that Henderson Hauling did cleaning the roof and gutters on our home and also our rental. They responded immediately to my request and were able to come the next day to do the work.  Our houses are under cedar trees and needed extra scrubbing to get them clean. Miles was friendly and thorough and did an amazing job for a very reasonable price. I'm so glad we have trustworthy businesses like this in our community." ~JANICE BROWELEIT
Call Henderson's Hauling today!  (360) 403-7972