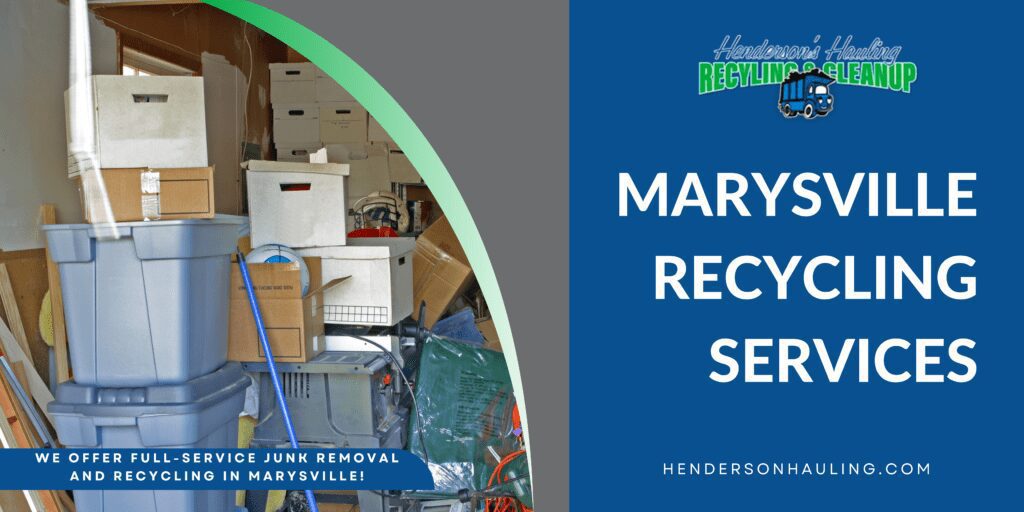 Marysville Recycling Services
Q: Where do you take Marysville Recycling?
A: Don't take it anywhere because we'll pick it up!
Spring cleaning is tough, and it is even harder when you're trying to organize in the rain that pummels the Pacific Northwest. You may be asking if you'll ever see the sun again or if you'll ever see your property free from the clutter that has gathered in your garage, closets, yard, or house. We know it's all too much. Where on earth do you take the mountain of junk, and how do you get it there? You can stuff your car with it and make 57 trips to the recycling centers, but who knows if they will take it? Recycling centers only take certain items. What do you do when you have too much stuff, or your items are too big for Marysville recycling?
You can pay a lot of money to haul multiple car loads to the dump. Unfortunately you have to pay for each car load. Is it even possible to pack the car up? Do you want to do back breaking labor that wears you out and takes a long time? If you live in Marysville and need to unload a mess of recycling, waste, old items, metal parts, and more, we can help!
Did you know that recycling in Marysville is mandatory? Your local recycling center takes some things but not all things. We take most! Your local recycling center also does not come to your house and pick up heavy items that you can't lift. We do!!!
We are Henderson's Hauling and we haul away your old stuff. It only takes a phone call and we'll be there to remove and recycle your items that sit and clutter your space. (360) 403-7972
We offer full-service junk removal and recycling in Marysville!
What you need to know is who is going to take it all away? If you have collected household items or recycling that is not acceptable for Waste Management Services, we have the solution for you. Call Henderson's Hauling and we'll pick it up for you! (360) 403-7972
At Henderson's Hauling, we take the hassle out of hauling and recycling junk, so you don't have to carry it or try to stuff it into your recycling bin. We are the #1 provider of junk removal and recycling services in Marysville and Northwestern Washington!
Recycling in Marysville helps everybody!
Most of the items that you have piled in garages, basements and attics can be reused by people in need. You don't want to throw away usable items that are already inhibiting the planet and taking up space in landfills. We are more than happy to take your stuff! Clothes, antiques, lamps, tons of collectables, estate leftovers, old appliances… Whatever you have, we will haul it away!
Storing old items in your house or garage attracts rodents, dust, spiders and all kinds of filth that we know you would rather not have. We know what to do with all of that stuff! Leave it to Henderson's Hauling to take and recycle the things you no longer need.
Pros of calling us to recycle your stuff
A clean space renews you.
If you are selling, a clean home attracts more buyers.
Reduces pollution
Prevents waste of useful materials
Materials such as plastics, paper and glass are collected and sent for reprocessing into new products.
Recycling helps conserve the use of natural resources.
We'll take the reusable items to the proper locations to save you money, time and stress.
Give us a call and tell us what you need picked up. You organize what you want hauled away and we'll schedule an appointment. Our team of hauling specialists come right to you and lift the heavy and awkward materials including boxes, furniture, old car parts, old tools, mismatched items, play sets, swimming pools, toys, shelves, paneling. Whatever you want to get rid of, we will do it for you. 
We help communities thrive in Northwestern Washington and Marysville!
We are proud to serve Marysville and the surrounding areas in Northwestern Washington. We have been in business for over 30 years and take pride in our customer satisfaction and our service record. Our trucks are clean, we show up on time, and we follow through with every job. 
Our team respects your family and your property while ensuring a safe and quality pickup every time. We offer a wide range of services, including recycling pickup for businesses, construction cleanup, and moving-out services for renters.
Customer Satisfaction is our Priority
At Henderson's Hauling, customer service is our number one priority. Our goal is to provide you with the best possible experience, whether it's through our high-quality services or friendly staff. We are proud to be a local business and family owned; your satisfaction is guaranteed when you choose us to remove your large recycling and unusable items.
You can trust Henderson's Hauling to help you with your hauling & recycling needs. At Henderson's Hauling, we know that every job is important to our clients. We do what it takes to ensure a job well done. We have an outstanding reputation in Marysville and the surrounding areas because of our dedication to providing quality customer service combined with excellent value and reliability.
Efficient and Reliable Service
Our customers have come to depend on us for reliable and efficient service. Whether you are a homeowner or a business, we are always available to our customers. We take pride in doing our job well, and it shows. We know how busy life can be, so we will be there when you need junk hauling and recycling services in Marysville.
Feel the sense of relief, accomplishment and satisfaction.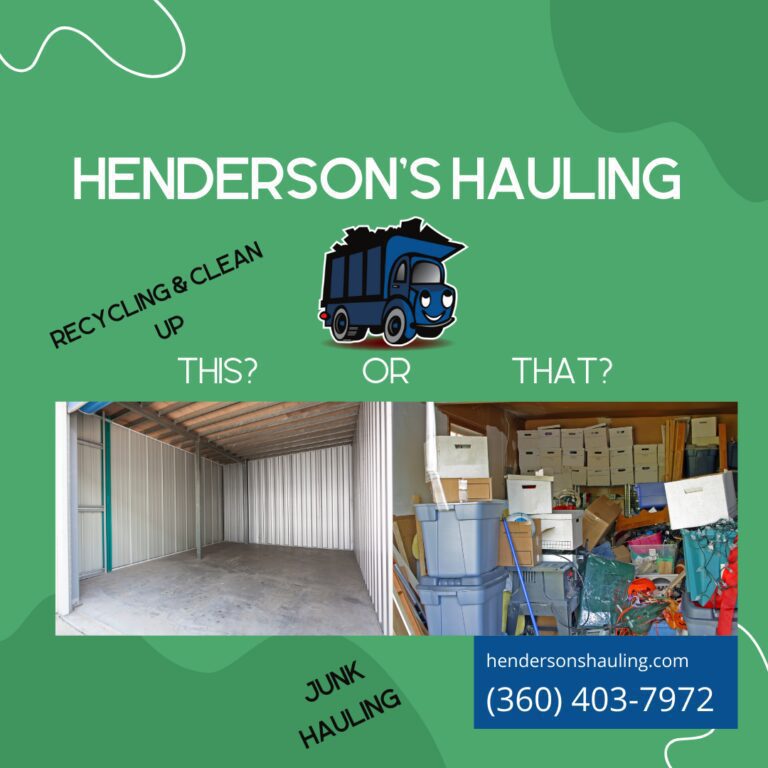 Imagine walking into your garage and feeling that sense of  a clean, open space. A clean, clear property does wonders for your health. You will feel refreshed, renewed and relieved after we remove the clutter and disarray in your space.
Call Henderson's Hauling today for junk hauling and recycling!  (360) 403-7972