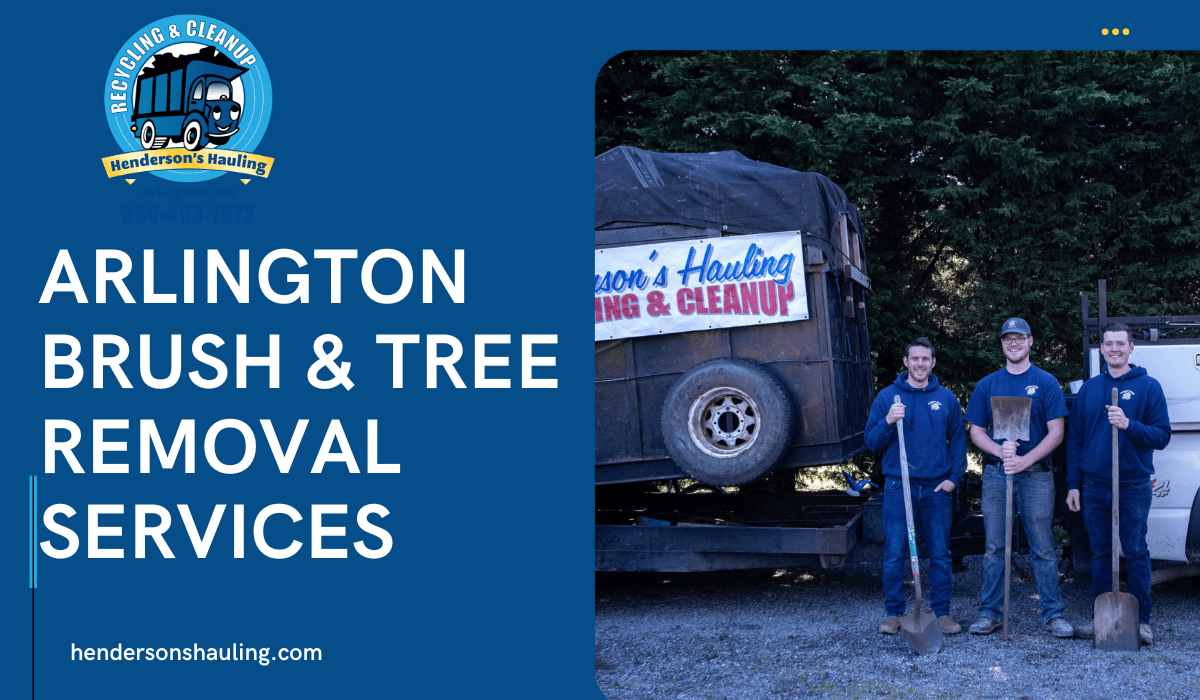 We'll remove it all with ease, whether it's brush, bushes, berries, or trees. Henderson's Hauling is the leading hauling service provider in the Arlington/Snohomish area.
Your property might be overtaken with old forest growth that looks terrible. You see it, and you want it gone, but the job seems like an impossible task. Fortunately, we don't mind visiting your property and cleaning it up for you. We have the skills, experience, and a mighty strong team of workers full of motivation and determination. We are here to help you remove brush and fallen trees off your property.
The overgrowth of brush and weeds can harm you, your family, and your property. They are a fire hazard, rodent nest attractors, and destroy the beauty of a well-kept lawn. If you are experiencing excess brush or weeds on your property, it is important to have them removed as soon as possible.
Call Henderson's Hauling for recycling, junk, tree & brush removal services. (360) 403-7972
Henderson Hauling is a full-service junk removal and recycling company that helps people get rid of their junk, yard waste, brush & leftover tree debris quickly and efficiently. We are a local business that is owner operated, which means the owner is on-site to ensure everything goes as the customer wants it to. The team takes great pride and care in what they do, ensuring they are professional and reliable.
Most businesses don't have an actual owner on the job site making sure things go as the customer sees fit. Shane Henderson is always on the job site, ensuring that the greatest care is taken when removing your junk. We know what we're doing. With over 15 years in the junk industry, not much can surprise us.
Tree & Brush Removal Services
You love your trees, but keeping them safe, healthy, and maintained on your property can be a hassle. Once they no longer get nutrients, they die, and  fall over quite easily. Whether it's a tree that fell during a storm or brush that you need to clear to make way for something new, it takes time and skill to get the job done safely. Sometimes, it's better to leave it to the professionals. 
Many people must realize how much brush is left over from one tree. It's not something that one person can remove by themselves.
Trees provide us with shade and oxygen; they're beautiful to look at and a symbol of something greater: the natural world around us that reminds us we aren't alone in this universe. But sometimes, these majestic and beautiful creations can become dangerous—especially if they fall on your property.
Living in Snohomish County means there are a lot of risks to your property from potential brush fires. But there are things you can do to help protect your land from fire. If a fire does break out on your property, it could have devastating effects on your community. You don't want that! You need to take precautions, so you don't accidentally start a wildfire on your own property.
g elit. Ut elit tellus, luctus nec ullamcorper mattis, pulvinar dapibus leo.
If you have an emergency on your property that needs cleaning up, we are on our way to help. We not only haul away trees and brush. We also haul away broken rubble and wreckage. We provide emergency tarping services if you need a tarp to protect your house or property until it is restored.
In the event of a tree falling in your yard, we can cut it up and chip up branches. We have great contacts to negotiate with claims with your insurance company.
Emergency Tarping
If a tree falls on your home or there is a fire, we can provide a temporary tarp to protect against the elements and remove trees. To secure the home or business, we can provide temporary doors on buildings that have been hit by cars.
Get a clean, brush-free property with Henderson's Hauling.
We offer affordable and reliable removal services to meet all of your needs. Along with our affordable rates and great customer experience, we offer services for those unexpected situations when you need help the most.
Henderson's Hauling would love to be of service to you. We're experts at all types of hauling and are happy to take your brush away for an affordable price. If you're not up for the job, that's okay too – give us a call, and we'll take care of it for you. (425) 403-7972
Why Henderson's Hauling differs from other hauling services.
Henderson's Hauling does a bit more than your average junk hauling company. A few important things we do differently is that we have enormous respect for you, your family, and your property. You can trust that we always think about safety while hauling away your things. 
Henderson's Hauling is a staple in the Arlington community and has worked to help the community for over twenty years. With the leftover items that accumulate from many of our client's donations, we decided to create a special community store full of unique, useful, and gently used items sold at a gigantic fraction of their original price. Is there something you've been searching for and can't find it? We welcome you to visit us! You never know what you might find at Arlington Pickers. See the Arlington Pickers video (on our website) for more information. 
Offering household items at low prices can make a big difference in someone's life! That's what makes us different. 
"These guys were amazing from start to finish.  I highly recommend them.  Fast, reliable and good communication.  They did about a half acre of junk, covered in raspberry bushes in just 3 days.  Including a mobile home that had disintegrated down to the frame.   I just can't say enough.  Highly, highly recommend." ~ Crystal T., Marysville
For junk hauling, tree and brush cleanup, or general hauling services, please call Henderson's Hauling at
(425) 403-7972