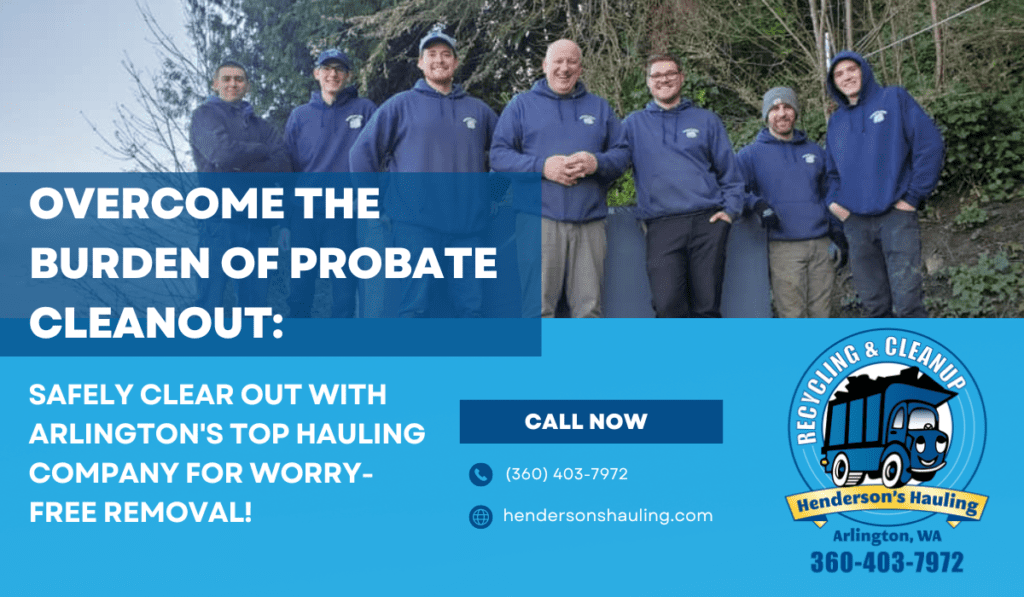 Safely Clear Out with Arlington's Top Hauling Company for Worry-Free Removal!
Losing a loved one is undeniably one of life's most challenging experiences. Amidst the grief and emotional turmoil, there is often the arduous task of handling their estate and possessions. This process, known as probate, can become overwhelming, requiring careful consideration and delicate attention to detail.
In such difficult times, Henderson's Hauling understands the importance of providing compassionate support and efficient solutions to help you navigate this process easily. As the leading hauling company in Arlington, we take immense pride in our commitment to assisting families during these trying moments.
In this blog, we highlight the significance of seeking professional assistance during probate cleanouts and the invaluable services offered by Henderson's Hauling. Discover how our team of experts can relieve the burden from your shoulders, ensuring a smooth and worry-free removal process.
Let us stand by your side, guiding you through this emotional journey while taking care of the logistics, so you can focus on cherishing the memories and honoring the legacy of your loved one.
Understanding the Challenges of Probate Cleanout
When faced with cleaning out a loved one's estate, you may find yourself surrounded by countless belongings, cherished memories, and sentimental items. Deciding what to keep, donate, and dispose of can be emotionally taxing and time-consuming. The process of probate cleanout may evoke feelings of nostalgia, sadness, and even anxiety, making it difficult to make clear-headed decisions.
Additionally, handling heavy furniture, delicate items, and other belongings can pose physical risks, especially if you lack experience in moving and hauling. The last thing you need during this sensitive time is to deal with potential injuries or damages.
Beyond the emotional and physical challenges, probate cleanouts may involve legal complexities. Navigating through legal requirements and deadlines while grieving can add overwhelming stress.
As you go through your loved one's possessions, you uncover valuable items that require an appraisal, or you need to identify and preserve important documents, ensuring their security for probate proceedings.
In such times, seeking professional assistance becomes desirable and essential to ensuring a smooth and successful probate cleanout process.
Why Henderson's Hauling Stands Out
At Henderson's Hauling, we recognize that every probate cleanout is unique and deserves utmost care and respect. Our experienced team understands the emotional challenges involved, and we approach each situation with sensitivity and empathy. We aim to make this process as stress-free as possible for you and your family.
1. Compassionate Support: Our team is not just about hauling away items; we are here to lend a helping hand and offer compassionate support. We understand that these belongings carry memories and stories, and we handle them with the utmost care and respect.
2. Efficient and Safe Services: With years of experience in probate cleanouts, our professionals are well-versed in handling all types of items. From furniture and antiques to personal belongings and household goods, we ensure safe and efficient removal while minimizing any potential damage to the property.
3. Eco-Friendly Approach: We believe in sustainability and strive to minimize our environmental impact. When handling probate cleanouts, we recycle and donate whenever possible, giving new life to usable items and reducing waste.
For further details on how we assist the Arlington community with your unused items, take a look at our page dedicated to Arlington Pickers.
4. Tailored Solutions: Each probate cleanout requires a personalized approach. Our team works closely with you to understand your specific needs and preferences, providing tailored solutions to fit your situation.
We recognize that no two probate cleanouts are alike. Each estate holds a unique combination of possessions, sentimental value, and legal considerations. At Henderson's Hauling, a one-size-fits-all approach won't suffice in such delicate circumstances.
Henderson's Hauling listens to you! Get help with comprehensive cleanout services.
When you choose Henderson's Hauling, we begin the process by talking with you, listening to your story, and understanding the significance of the items you're dealing with. Our compassionate team takes the time to discuss your preferences, your vision for the cleanout, and any items with special meaning.
Whether you require assistance with packing, sorting, or transporting specific items or need a comprehensive estate cleanout service, we tailor our solutions to your requirements. Our goal is to alleviate the stress of the probate process and create a plan that respects your emotions and aligns with your wishes.
We have a team of experts who are well-versed in managing estates of various sizes, ranging from small residences to grand properties with vast assortments. We are prepared to handle every aspect of the cleanout with efficiency and sensitivity, ensuring the process aligns with your timeline and meets the demands of the probate proceedings.
At Henderson's Hauling, our commitment to personalized service means you can rely on us as a supportive partner throughout this journey. We aim to turn the probate cleanout into a seamless experience, allowing you to focus on preserving cherished memories and celebrating the life of your loved one.
Our tailored solutions ensure that we carry out the cleanout process with the utmost care, consideration, and attention to detail, giving you confidence in our services.
Trust Henderson's Hauling to handle your probate cleanout needs, and let us be a source of strength during this challenging time.
Embrace the Journey with Henderson's Hauling.
During a time of loss and grief, Henderson's Hauling is here to offer a helping hand and support you through the probate cleanout process. Our dedication to providing efficient and compassionate services has earned us a reputation as Arlington's top hauling company.
Let us take the burden off your shoulders, allowing you to focus on healing and cherishing the memories of your loved one. Whether you require full-scale estate cleanout or assistance with specific items, our team is ready to assist you every step of the way.
After the passing of my aunt, I was faced with the daunting task of handling her estate cleanout. The thought of sorting through her belongings and deciding what to do with them was overwhelming. That's when I reached out to Henderson's Hauling, and it turned out to be one of the best decisions I could have made.
What struck me the most was their commitment to providing tailored solutions. They didn't treat it as just another job; instead, they saw it as a unique situation that required a personalized touch. They worked closely with me to identify items of sentimental value, ensuring they were handled with care and respect.
It was a relief to have professionals who understood the complexities of probate cleanouts and guided me through the process easily.
I wholeheartedly recommend Henderson's Hauling to anyone needing estate cleanout services. They are a reliable, caring, and professional team that will make the process seamless and stress-free.
Thank you, Henderson's Hauling, for your exceptional service! ~Jenna Peterson, Arlington
Contact Henderson's Hauling today and discover how we can make this challenging time a little bit easier, ensuring a worry-free removal process for you and your family. Call (360) 403-7972.
Feel free to look at our extensive range of cleanout & hauling services.