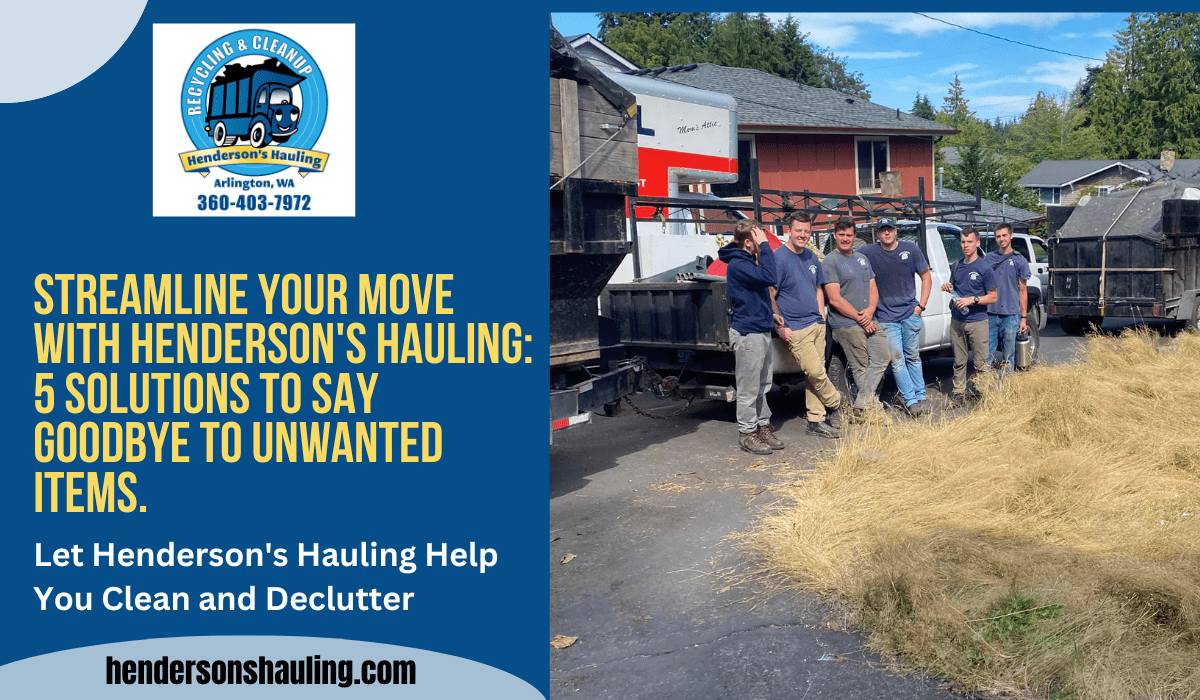 Let Henderson's Hauling Help You Clean and Declutter During Your Move to or from the Arlington area by hauling your junk away.
Moving in or out of Arlington? Discover how Henderson's Hauling can simplify your move by efficiently moving items out of your garage, storage spaces, and house. Let us take care of the heavy lifting and haul away the items that no longer serve you. Read on to learn about the benefits of hiring a professional hauling company and why Henderson's Hauling is the best choice in Arlington, WA.
Moving can be a stressful and overwhelming experience, especially when faced with the daunting task of dealing with unwanted items. However, with Henderson's Hauling by your side, you can simplify your move and bid farewell to these unwanted belongings. 
This article will explore five effective solutions provided by Henderson's Hauling that will help streamline your move. From efficient junk removal to customized solutions tailored to your specific needs, Henderson's Hauling has the expertise and resources to make your move seamless and hassle-free. 
As you transition to a new space, one of the most challenging tasks is dealing with the abundance of items accumulated over the years. From old furniture and appliances to boxes of forgotten belongings, sorting through and disposing of these items can be daunting. That's where Henderson's Hauling comes in to provide the solutions you need to make your move easier and more streamlined.
Henderson's Hauling Provides the Solutions you need to make moving easier:
Sorting through and decluttering your home is time-consuming. Henderson's Hauling offers efficient junk removal services, allowing you to focus on other aspects of your move. Our professionals will handle the heavy lifting, carefully removing unwanted items from your garage, storage spaces, and house.
Proper Recycling and Disposal:
One of the challenges of moving is figuring out what to do with items that can't simply be tossed in the trash. Henderson's Hauling takes environmental responsibility seriously and prioritizes proper recycling and disposal of materials. We have the knowledge and resources to ensure that your unwanted items are disposed of eco-friendly, minimizing environmental impact.
Stress-Free Cleanout Process:
Cleaning out your space can be physically and emotionally draining. Henderson's Hauling aims to alleviate this burden by providing a stress-free cleanout experience. Our trained professionals will handle all the heavy lifting, saving you time and energy. You can trust us to navigate tight spaces, stairs, and other obstacles, ensuring a smooth and hassle-free clean-out process.
Every move is unique, and we understand that your needs may differ. Henderson's Hauling offers customized solutions to accommodate your specific requirements. Whether you need assistance with a garage cleanout, storage space organization, or clearing out your entire house, we will tailor our services to meet your needs. Simply let us know what you need, and we'll create a personalized plan to make your move seamless.
Moving is a time-sensitive process, and efficiency is key. Hiring Henderson's Hauling will save valuable time and effort that can be better utilized for other moving-related tasks. Our competitive pricing also ensures you get the most value for your money. Investing in professional hauling services can save you from costly mistakes and potential injuries when handling the heavy lifting on your own.
Arlington, WA Homeowners Trust Henderson's Hauling for their junk hauling services
Regarding hauling services in Arlington, WA, Henderson's Hauling stands above the competition. Our commitment to excellence and customer satisfaction has made us the go-to choice for residents in the area. With a track record of providing top-notch service and exemplary professionalism, it's no wonder our customers choose us repeatedly. Discover why Henderson's Hauling is the trusted name for all your hauling needs in Arlington, WA.
At Henderson Hauling, we take pride in being the top hauling company in Arlington, WA. Here's why our customers choose us repeatedly: Local Expertise: As a local business based in Arlington, we understand our community's unique needs and challenges. Our team comprises experienced professionals familiar with the area, ensuring efficient and timely service.
Owner-Operated: Unlike many other hauling companies, Henderson's Hauling has the actual owner on the job site. Shane Henderson oversees each project so if you have any questions, he is there.
Care and Professionalism: Our team is committed to providing the highest care and professionalism. We treat your property respectfully, taking extra precautions in even the toughest situations to ensure minimal disruption and damage.
Review from a Satisfied Customer:
"Henderson's Hauling exceeded my expectations during our recent move. The team displayed exceptional professionalism and took great care of our belongings. Their efficiency and attention to detail were greatly appreciated. I highly recommend Henderson Hauling for anyone needing reliable hauling services." – Angie McCauley.
Are you ready to make your move easier and stress-free? Contact Henderson Hauling today at 360-403-7972 or visit our website to request a quote. Let us handle the heavy lifting and hauling so you can focus on settling into your new space.