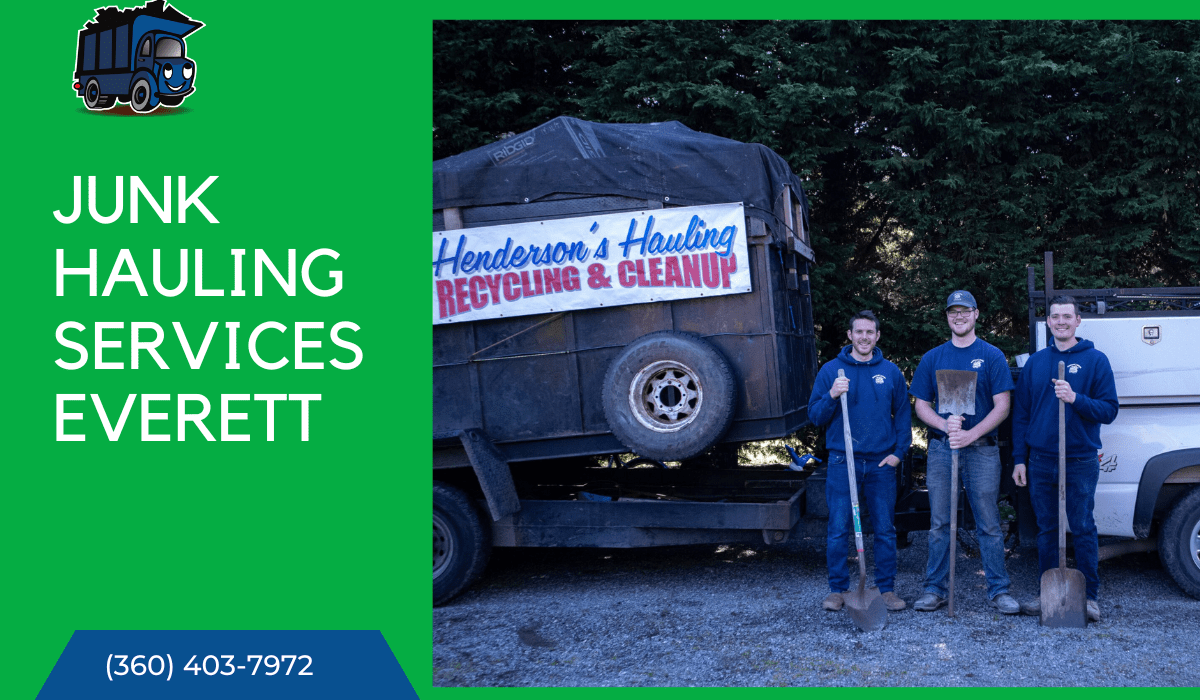 We get rid of your junk. FAST. EASY. AFFORDABLE junk removal in Everett.
Do you own a garage so full of stuff that you can't park your car inside? That's the perfect sign that you need help cleaning up.
If you have an old heap of metal, old cars, and rusty equipment that is useless and makes your yard look like a junkyard, we can take them off your hands. We provide removal services for all types of junk: household appliances, construction debris, computers, TVs, and other electronic equipment. We will haul it away for free! We can also help you get rid of larger projects like demolishing buildings or old vehicles that are in your way.
You have to eliminate those terrible items that are bad for you and the environment. Let us haul your nightmares away. Call Henderson's Hauling if you live in Everett, Washington, and you need to clean up your land from the hazards of too much junk. We will come and pick up your stuff. (360) 403-7972
When you see a bare and clean space, it will inspire you to become an organized person. You will have a clear mind and feel enlightened when you finally start to call us to come and clear out your space.
We are Henderson's Hauling, and we haul and remove your junk, including
Items for recycling
Construction waste
Brush removal
Old appliances
Antiques
Boxes
Old furniture
Old rugs,
Leftover paneling.
We'll help with the following:
Eviction Clean-out
Demolition
Emergency Tarping
Dumpster Rental
Full-Service Junk Removal
Our professionals are licensed, bonded, and insured to remove all types of junk. We respect you and your property with the utmost care because we want to keep you as a satisfied customer. No matter how big or small the mess is, we are happy to haul it away!
Junk Hauling Services - Everett, WA
Junk Hauling is what we do, and we can help you with your junk hauling needs. We know it is not fun, but for us, we don't have any problems hauling away your hassles. Whether it be a garage clean-out or an entire house full of junk, you can bet that we will be there if you give us a call.
At Henderson Hauling, your satisfaction is our top priority. We're a full-service junk removal company that specializes in hauling away unwanted items and disposing of them properly. We'll remove anything you don't need, including appliances and furniture. We are the junk removal experts to call if you need help removing junk from a home or business! (360) 403-7972
We are Everett's go-to company for commercial and residential clean-ups. Our team will handle the job quickly and efficiently when you need truckloads hauled away. All of our work is 100% guaranteed, so you can be sure that your space will be clear and clean once we are gone!
We offer quick, affordable service with a smile. Our staff is happy to help you remove brush or other items from your home or business. We have the experience and knowledge to handle your property clean-up needs.
Demolition Eviction Clean Out
We can clean out your home, business, or property.
We can clean up after a tenant leaves.
We can clean out your garage or shed.
We take care of everything! Our crew is licensed, insured, and bonded and we are environmentally conscious.
First, you should know that not every tarping job is an emergency situation.
The worst thing you can do in a tarping emergency is panic, so take a moment to evaluate the damage and determine if this is truly an emergency situation or not.
Your roof may have been damaged during a storm or by debris falling on it. We provide tarping to keep you and your home safe.
A 10-yard dumpster rental is our standard roll-off dumpster. This size is great for small jobs like garage cleanouts and kitchen remodels.
What are the dimensions of a 10-yard dumpster?
Size: 12 ft long by 8 ft wide by 3 ½ ft high
Weight limit: 4 tons
Capacity: 10 cubic yards of waste (equivalent to 13 standard pickup truck loads) or 40 4'x8' pieces of plywood
Dumpster Rental U-Haul Truck Rentals
Call Us Now For A Free Quote
We remove any unwanted items that you no longer need or want from your home, garage, yard, or business. We recycle, reuse and donate as many of your unwanted items as possible. We also provide junk removal on an individual basis.
Reduce, reuse and recycle are three easy steps you can take to help the environment. By recycling, we are helping reduce greenhouse gasses and saving energy and natural resources for future generations. Our goal is to take this challenge one step further by donating certain items that we pick up.
Call Henderson's Hauling for Everett junk removal today! (360) 403-7972