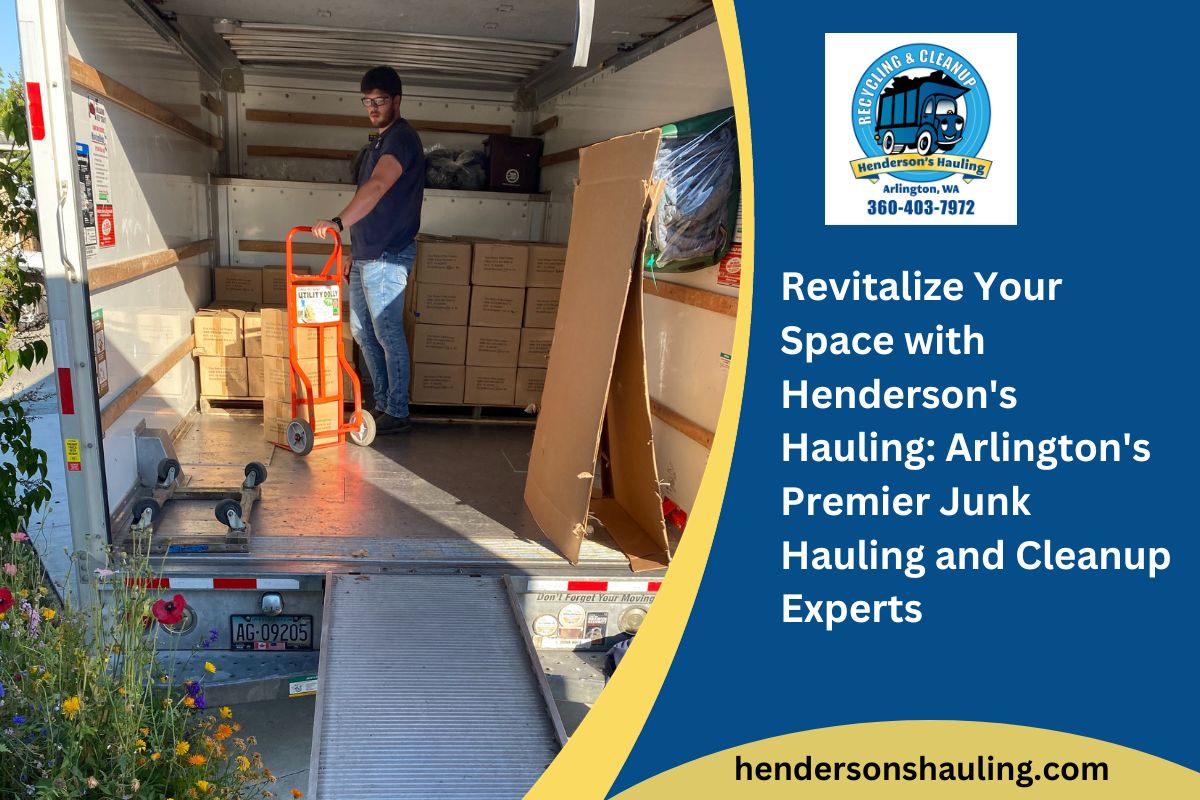 Hey Arlington Residents! The holiday season is around the corner, and you are already thinking about travel plans, visitors, relatives, gifts, taking time off work to clean your house, clean your basement or the garage, or getting out in the yard and cleaning it up before the rain hits…or is already hitting if you live in Arlington and the Pacific Northwest. 
Prepare for what lies ahead by tidying up your home or residence. Allow Henderson's Hauling to assist you in gearing up for the season with our expert services in junk hauling, recycling, and clean-up.
Let us make cleaning up your junk easier than ever.
Who are we? We are Henderson's Hauling. We are the leader in junk hauling and removal services in Arlington, WA. We understand that cleaning up what you need is a big task, and we are here to help you with your cleaning and hauling needs. Read the following reasons why you need to call Henderson's Hauling today. 
Let me spill the beans on why picking up the phone and dialing Henderson's Hauling is the best decision you'll make this week: (360) 403-7972
We're Local Legends: Henderson's Hauling isn't some faceless corporation. We're your friendly neighborhood junk heroes committed to making Arlington clutter-free and fabulous.
Heavy-Lifting Pros: Lifting heavy things is our cardio. Don't strain your back trying to move that ancient sofa; we've covered it. Sit back, relax, and let the pros handle the heavy lifting.
Liberators of Space: Have dreams of a Pinterest-worthy home but drowning in a sea of stuff? We're here to liberate your space and turn those dreams into reality. Say goodbye to the chaos!
Your Stress-Busters: Feeling stressed about the mess? Consider us your stress-busters. Henderson's Hauling is here to take the weight off your shoulders, literally and metaphorically.
Because You Deserve It: Life's too short to be surrounded by things you don't need. Treat yourself to a clutter-free haven. You deserve a space that sparks joy, and Henderson's Hauling is here to make it happen.
There are great reasons to call us, but wait…there's more. Here are things in your life that create the junk you want to let go of but haven't. If these life problems have burdened you, then Henderson's Hauling has your solution.
Henderson's Hauling provides solutions for your junk hauling and cleaning challenges.
Junk doesn't just appear. There are some pretty tough reasons why you have stuff lying around that keeps you from living a clean and non-burdened life. 
Probate Cleanout: We expertly navigate estate and probate cleanouts, making the process seamless and stress-free for you.
Fallen Trees: If a tree falls in your yard, we can cut it up and chip up branches. We have great contacts to negotiate claims with your insurance company.
Evictions and Abandonment: When tenants leave or face eviction, they often leave behind a trail of possessions, turning the property into a cluttered mess.
Move-Ins and Move-Outs: Whether moving into a new place with unwanted items left behind or clearing out your own space during a move, the process often leaves a pile of things to deal with.
Rental Unit Prep: Getting a rental unit ready for new tenants can involve cleaning out the remnants of the previous occupant's belongings.
Incomplete Projects: That half-finished car or DIY project your son promised to complete years ago? It's now a permanent fixture in your yard.
Construction Debris: From failed home improvement endeavors to the aftermath of construction projects, debris, and discarded materials can clutter your property.
Appliance Quandaries: Old appliances find themselves in limbo when you're unsure how to dispose of them properly.
Garage Overhaul: Garages often become dumping grounds for items with unclear fates, from forgotten toys to obsolete furniture.
Storage Space Cleanouts: The treasures hidden in storage spaces sometimes become unnecessary clutter, prompting a cleanup.
Renovation Residue: Renovating a space is exciting, but the cleanup afterward can be daunting, with remnants of the old lingering around.
Sentimental Clutter: Old toys, tapes, desks, or furniture—sentimental items that outlive their purpose and take up valuable space.
Unused and Unwanted: Sometimes, things just sit there, unused and unwanted, until it's time to reclaim the space they occupy.
Let Henderson's Hauling help you reclaim your life and space with our junk hauling and removal services.
Choosing Henderson's Hauling is a decision rooted in reliability, community connection, and unmatched professionalism. Punctuality is at the core of our service—we respect your time and honor it. 
Expect us to be on time, work efficiently, and complete the job promptly. Our commitment to punctuality reflects our dedication to making the process as seamless and stress-free for you as possible.
What sets us apart is our local presence and deep ties within the Arlington community. Being a local business is not just a label; it's a commitment to serving our community with care and compassion. Having the owner, Shane Henderson, on-site ensures your experience aligns with your vision. With years of experience in the junk removal business, Shane brings a level of seasoned professionalism that guarantees your clutter disappears efficiently.
Not All Hauling and Cleaning Jobs are the Same.
Every hauling and cleaning job is a unique puzzle, and at Henderson's Hauling, we thrive on creating solutions for you. It's essential to recognize that not all tasks fall under a one-size-fits-all category. You might need something specific done, and the beauty is you might not even know that we do it! That's why we encourage you to ask—just share what you need because there is a great chance that we do it.
Need old carpeting moved out? We've got you covered. Leaves causing a rooftop and gutter nightmare? We can clean that up, too. The range of our capabilities goes beyond the obvious, and we're here to assist you with anything related to hauling and cleaning. But here's the catch—we can only help if you ask.
So, don't hesitate. If there's a task, a project, or a cleanup problem on your mind, just give us a call and ask. We're ready to be the solution to the challenges you might not even know we can handle. Your job might be unique, but Henderson's Hauling is here to make it easy for you. (360) 403-7972
Your positive customer experience is important to us.
Our customers are not just clients; they are part of our community. The testimonials speak volumes about our honesty, compassion, and fair pricing. Henderson's Hauling isn't just about removing junk but building trust with our customers.
"They did a fantastic job doing a residential junk removal, yard waste removal, and carpet removal job on short notice! Great communication, showed up early and worked quickly and thoroughly. We will definitely be using them again. Very fair and competitive pricing.~ Lisa Taylor