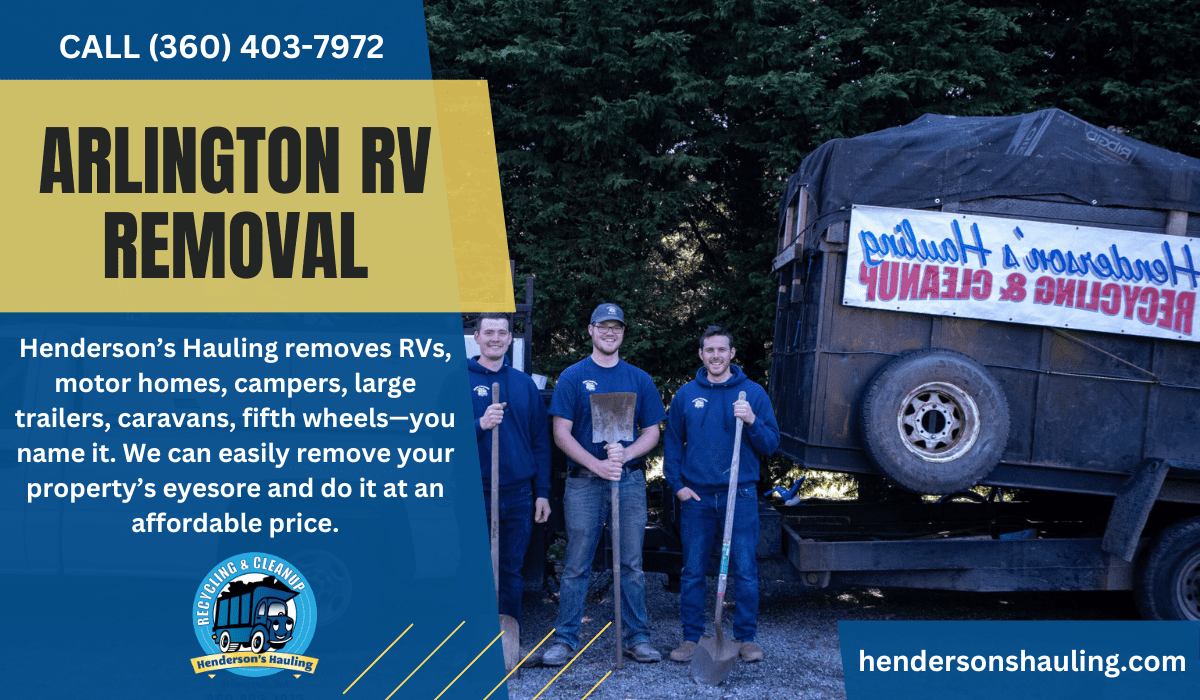 Henderson's Hauling removes RVs, motor homes, campers, large trailers, caravans, fifth wheels—you name it. We can easily remove your property's eyesore and do it at an affordable price.
Our motto is "Yes. We can!"
We're a family-owned business that is part of the downtown Arlington community. Our personal touch and how we can handle tough and messy jobs have made a name for us and given us lifelong customers.
Your local Arlington junk remover is proud owner and operator Shane Henderson. If you need to get rid of an old junk trailer, you definitely want to call Shane and his first-rate team of hauling experts. (360) 403-7972.
Henderson's Hauling and Recycling is #1 at what we do. What do we do? We help you clean and haul away the giant RV you stare at whenever you go outside. You look at that big piece of metal and think, "I need to get rid of that old thing." But you don't because you can't. It's too big. It's too heavy.
It's a huge pile of junk ruining the environment. It attracts wildlife, cat colonies, and creepy crawlers that have nested inside. The rust mixes with rainwater and pollutes the property. 
An old, unused recreational vehicle, an abandoned trailer, or a messy yard truly weighs down your happiness and self-esteem. It's always in the back of your mind. It's why you don't invite people over. They'll see that old, ugly trailer you had plans for in 1986, but now, you have to get rid of it.
"Shane and his crew are great, they get the job done, and you will be glad you found them, they are very respectful crew, never any issues. I highly recommend them." ~ Rich H.
How to does Henderson's Hauling haul away RVs?
It's easy. You call us, and we quickly respond. We'll make an appointment at your convenience. Then, we'll come to your property, lift the RV onto our trailer (or the most beneficial and best way to haul a trailer, towing, etc.), and drive it away. We are OK with helping you clean up the area also. We can take any leftover debris that you can't remove yourself. We always leave the area clean.
Whether your RV is in excellent condition or has seen better days, we can help dispose of it. We are a professional RV removal company specializing in making old campers disappear.
When it comes to Hauling, we don't believe that every situation fits into a cookie-cutter mold; every situation is uniquely different. We are a very adaptable company that can assess your needs and find solutions for you! We don't say, "No, we don't usually do that." We say. "Yes. Let's make a plan to get that done." 
If the RV is so old that it's falling apart, we can customize our plans by taking it apart in pieces. Whatever you have that you need to remove, we can do it. We have tons of experience cleaning, removing, and hauling away. We always take items to the designated location that satisfies city ordinances. We do the recycling for you. Anything useable, we'll donate.
We will provide any legal documentation you need if, for example, your RV has a chance at being donated or if the item is part of an estate, or leftover by a renter.
How much does it cost to haul away my camper or RV?
It's important to know that not all hauling situations are cookie-cutter. Your situation is completely different than someone else's, so we customize a very specific plan for your junk hauling needs. We always consider you and your situation.
We want to ensure that we are being fair in our pricing, so we factor in the distance to the camper, the workload and safety of our crew, the size of the RV, and how we will transport it.
You can call us or send a picture of your unwanted item, and we can give you a quote. Just go to our contact page.
What makes Henderson's Hauling different from others?
We seriously have a passion for what we do. We've made a commitment to clean up and help those that can't do it by themselves. That is why we're here. We care about our customers and we have the energy and strength to help remove large items.
Our personal touch and how we can handle tough and messy jobs have made a name for us and given us lifelong customers. We are fast, friendly, professional, and work with a smile. We care about your home and property and work carefully and intentionally, so nothing gets damaged.
Employees are vetted with a background check and are known for their hard work and kindness. We don't like saying no, and we do like doing things as soon as possible!
Henderson's Hauling is always:
Quick to respond

Kind and respectful

A business that cares for the community

On time 

Great at leaving the area clean
"We have had Henderson Hauling come out several times to pick up our unwanted items, always professional and always goes above & beyond to leave the area spotless." ~Tani L.
Henderson's Hauling makes junk removal easy. Call today and enjoy a clean, clutter-free yard. (360) 403-7972