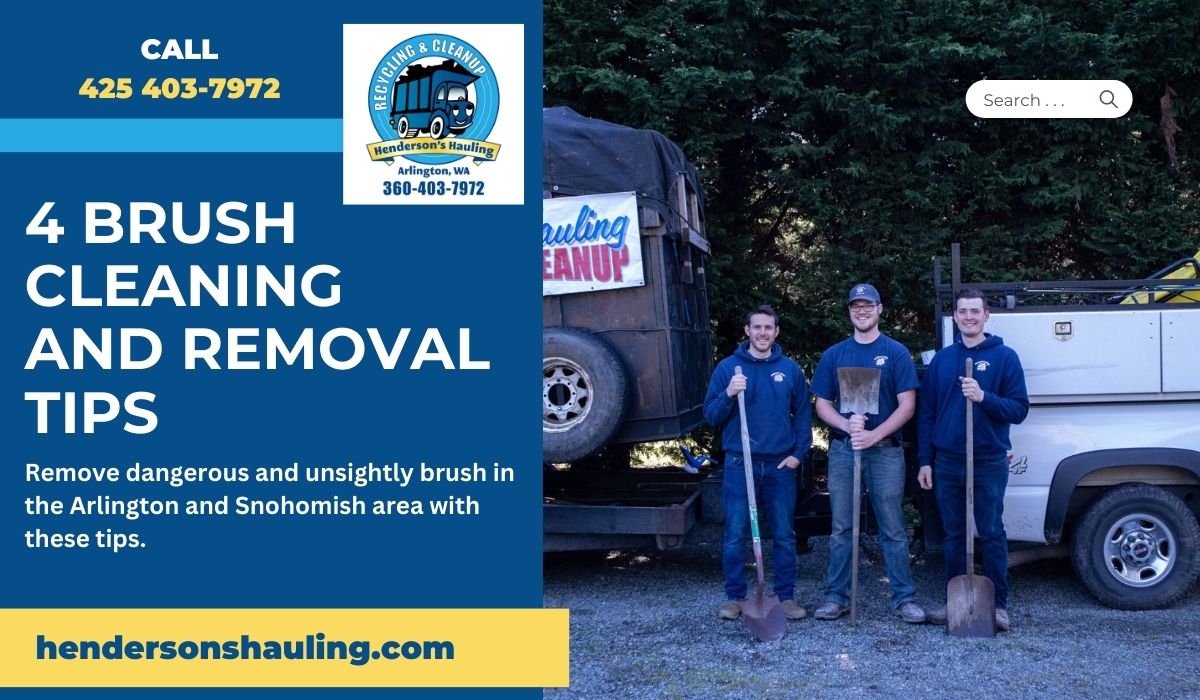 Remove dangerous and unsightly brush in the Arlington and Snohomish area with these tips.
Do you look around at your property and see an overtaking of old forest growth that looks terrible? You see it, and you want it gone, but the job seems like an impossible task. The good news is that you can eliminate all that mangly, ugly brush. With a few tips, you can take control of your property and make it look clean and neat.
Overgrown brush and weeds are a danger to you, your family, and your property. If you see a lot of extra brush or overgrowth on your property, it's important to remove it. New plant life grows under the brush. The new plant life is known as undergrowth and grows out of control. Some of it is poisonous, but the worst part is that it is a fire hazard. It also attracts mice, rats, and other animals that use it to build nests.
In our area, fires are an incredible danger. If you live in Washington state, you already know what a wildfire can do. The last thing you want is the potential for a fire on your property, and in Snohomish County, fire prevention is everyone's responsibility. You don't want to be accountable for an out-of-control brush fire on your land.
Henderson's Hauling would love to be of service to you. We're experts at all types of hauling  and are happy to take your brush away for an affordable price. If you're not up for the job, that's okay too – give us a call, and we'll take care of it for you. (425) 403-7972
If you want to take on the job of clearing brush off your property, we've offered a few tips to make the job a little easier
4 Steps for removing brush, weeds, and old growth off your property.
1. Clean your property in the Summer and Fall.
When it comes to clearing the brush, there are a few things you need to know. First, you want to avoid doing it during dry months when plants are dying off. That's because most people cut down trees at this time of year and leave them where they fall.
Summer and Autumn are also best because plants are growing fastest then, which means that once they're gone, there'll be room for more sunlight for the plants you want to keep.
Finally, ensure you have the proper equipment before you begin – pruners and loppers are going to be necessary if you're cutting down small bushes or shrubs just by hand. At the same time, chainsaws might come in handy if any major tree trunks need removing.
2. Gathering the appropriate tools will make the job easier.
For the removal of brush and growth, you need the right tools. For example, you should use a chainsaw when cutting down trees. It would help if you had a weed whacker to pull up brush and weeds. A big pair of trimmers is good for blackberry bushes. It's also a good idea to do this job with someone else to ensure a maximum amount of safety.
Knowing all the best tools for brushing and removing growth is important. Please understand that it is easy to get hurt when using the wrong tools for this type of work.
Possible tools you'll need to clear away brush.
If you aren't comfortable with power tools or are unfamiliar with their use, please consider hiring a professional service to avoid injury or damage to your property.
Chainsaw
Chipper/Shredder 
Lawnmower
Loppers
Machete
Protective goggles
Pruners
Shovel
Weed Wacker
Home Depot has larger tools to rent, such as mulchers and chippers if you decide to mulch or grind the brush into useable garden compost. Composting is an easy way to create healthy, nutrient-rich soil for your garden.
Yard trimmings are prohibited from garbage containers and create extra landfill expense, but they can provide nutritious compost and mulch if composted
3. Make a plan. Walk your property, and take note of how much brush needs clearing
Make a plan to know how much time you need, plus what you'll need tool-wise. It's best to look around your landscape before making any decisions. Getting a clear idea of what you are dealing with can help you determine what needs to be done and how to do it.
Ask yourself a few questions before you begin cleaning up.
How many trees need to come down?
Will the leftover debris leave large piles of debris lying around?
How do you plan to remove the debris?
If a fire is allowed, can you do so safely?
4. Consider renting a 10-yard dumpster. (If there is an excess of brush
At Henderson's Hauling, we offer 10-yard delivery dumpster services. We will bring the dumpster to you. You rent it for as long as you need to clean up your property.
$350 plus the dump fees to drop a 10-yard dumpster in your driveway
The first three days are free.
After the three days, it's five dollars per day to rent it
Hire Henderson's Hauling to remove and haul away brush from your property.
Henderson's Hauling will remove and haul away brush from your property. We offer affordable prices and flexible pick-up times. We are local, family-owned and operated.
"I was so impressed with the job that Henderson Hauling did cleaning the roof and gutters on our home and our rental. They responded immediately to my request and were able to come the next day to do the work.  Our houses are under cedar trees and need extra scrubbing to get them clean. Miles was friendly and thorough and did an amazing job for a very reasonable price. I'm so glad we have trustworthy businesses like this in our community." ~  Janice Broweleit
Call (360) 403-7972 for brush removal services in Arlington, Marysville, and throughout Snohomish County.